15 Best Graphics HD Game For Android That You Must Play Once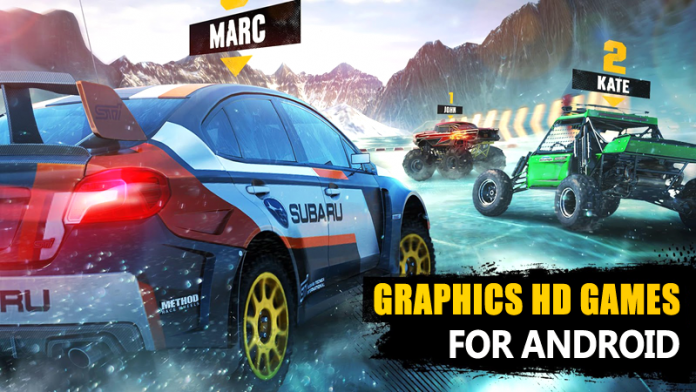 We entirely are game fanatics and are insane about playing HD Games on our Android device. Nowadays there are numerous games available on play store, yet many of them are not so fashionable as their names. So in this post, we will tell you the best graphics games on android. The games listed below are based on their reviews, user feedbacks and game ratings. These include
best HD games of android 2017.
15 Best Graphics HD Game For Android That You Must Play 2017
#1 Injustice: Gods Among Us
INJUSTICE: GODS AMONG US is a free-to-play collectible card game where you build a roster of characters, moves, powers, and gear and enter the arena in touch-based 3-on-3 action combat.
Features:
Build your move set, increase your powers, upgrade your characters and gear, and beat your competition.
Take on real opponents in Online Multiplayer Battles.
Collect and play as your favorite DC Comics icons: Superman, Batman, Wonder Woman, The Joker, Green Arrow, Flash, Bane, Green Lantern, Doomsday, and many others.
Delivers best-in-class graphics on your phone or tablet, with custom animations for every single superhero and villain.
#2 DC Legends
Experience the ultimate role-playing game packed with all of your favorite DC Super Heroes and Super-Villains. Join Superman, Batman, The Joker and more in a battle against Nekron. The game had amazing graphics that keeps you engage in the game.
#3 Asphalt Xtreme
If you are love car racing game then this one you will find amazing. Yu just need to break through to uncharted territory with Asphalt Xtreme! Rip around dunes, charge through canyons, drift across the mud and fly past your opponents to reach the finish line!
Features:
Release your inner beast in a Monster Truck.
All 7 off-road vehicle types deliver unique flavors of gameplay, allowing you to constantly discover fresh and challenging experiences.
Go head-to-head online in 8-player simultaneous free-for-alls! You'll be facing some tight competition, so stay on top of your game!
You won't experience graphics more intense, or mind-blowing nitro action this fast, in any other racer.
#4 Half-Life 2
Half-Life 2 is very popular games among the gamers. This game is available for the Android devices. In this game, there is scientist Gordon Freeman resists to undiscovered monsters. This is best Graphics legendary Game. The major element of this game is the cache to be downloaded.
Game Features
Digital Actors: Experience the most sophisticated in-game characters ever witnessed
Advanced AI: Friends and foes assess threats and fashion weapons from what is at hand.
Stunning Graphics: Incredibly realistic environments and special effects.
Physical Gameplay: Objects obey the laws of gravity, friction, and buoyancy.
#5 Rival Knights
This is the best HD adventure game in Google Play Store.It is very popular game downloaded by million of gamers. The Graphic quality of this game is very good. In this game, you have to fight many battles and by fighting different battles, new powers will get added.
Game Features
Experience the thrill of fast-paced & highly addictive jousting for free
Sharpen your war skills with precision timing & aim
Battle ruthless foes & rival clans across 5 leagues to seize their castles & thrones
Embark on an adventure across the kingdom, become a champion & etch your name into history!
#6 Special Force- Online Fps
This is the best Shooting game of android. You can play this game online with your friends. The graphic quality of this game is just awesome. This game also supports multiplayer in it.
Game Features
World's first real-time multiplayer gun battle(Shooting) on mobile
30+ actual weapons with the different gun specs
Customize your character with various costume items and skills.
Group and battle with your friends: Clan System
#7 Modern Combat 5: Blackout
This game is developed by Gameloft and published by Gameloft. This is awesome one-person shooter game.The graphics quality of this game is also very good. There is the wide range of shooting guns in it. And this game also had very positive user ratings.
Game Features
6 customizable classes that you can level up across single- and multiplayer
Epic team clashes in Squad vs. Squad matches
Accumulate XP and level up by playing both single-player missions and multiplayer matches
Fast-paced story missions with various challenges taking you from Tokyo to Venice
Intuitive, highly customizable controls so you can play the game just the way you want
#8 Thor: TDW- The Official Game
Thor, the mighty God of Thunder, in this official action-adventure game. This game is very popular as it is based on the movie Thor. Difficulty level increases very rapidly after passing each level areas. The game's graphic quality is also good.
Game Features
Train and fight alongside legendary Asgardians such as Sif, Heimdall, and the Warriors Three.
Traverse the Worlds to stand in defense against the Marauders and Dark Elves, and free them with your Allies.
Unlock and upgrade 10 powerful hammers and armor sets for the hero Thor
If you can't beat the world, beat your friends: Tower over everyone on the Friends leaderboard for greater rewards!
#9 Edge Of Tomorrow Game
This is the best game you had ever played. This is warrior game with different adventure views in it. In this game, there is one power Up that is 1UP available in every level which gives additional life to a warrior. The graphic quality of this game is superfine.
#10 Dead Effect
This is another example of the best Shooting game of android. This game is designed by Bullypix. According to graphic quality, this game is at a top. Actually, this game is zombie shooting. You have to kill all the zombie to survive to next levels.
Game Features
An epic single player campaign awaits you with more than 5 hours of story gameplay. Space is cold and full of horrors.
Throughout the campaign, you will find new weapons and money to upgrade your armory.
Discover the mysteries of the ESS Meridian, and wander around its impressive
environments with intense background music.
Use your special ability to slow down the time and defeat even the toughest enemies!
Will you take up the challenge and try to defeat all your enemies in survival mode arenas?Unlock all the achievements and get all the weapons available!
#11 Assassin's Creed Pirate
As we all are familiar with Assassin's Creed game of Computer. Now this game is available for mobiles too. This is One of the best Hd game of android. Users ratings of this game are also very good. This game is available on play store for free.
Game Features
ENGAGE IN BRUTAL NAVAL COMBATS
BUILD UP YOUR CREW AND YOUR SHIP
EXPLORE THE IMMENSITY OF THE CARIBBEAN… AND MUCH MORE!
DISCOVER GROUNDBREAKING 3D VISUALS ON MOBILE AND TABLETS
EMBARK ON AN EPIC QUEST FOR A LEGENDARY TREASURE
#12 Deus Ex: The Fall
This is cyberpunk action role-playing and stealth android game. This game is just awesome and has very goog graphics quality. Download and install this game for Rs.50 in Google Play Store.
Game Features
Fight for survival in a global conspiracy
Every action has a consequence
The search for the truth spans from mafia hideouts in Moscow to the slums of Panama
Hours of gameplay with multiple ways to play
#13 Leo's Fortune
It is one of the award-winning adventure game, It is the premium game that means you have to buy this game to enjoy it! you need to hunt down the cunning and thief that already stolen your gold, the graphics are beyond extraordinary and the gameplay is also smooth. It will be one of the epic adventure game you will ever play for sure.
#14 Dead Trigger 2
It is the Zombie Shooter Game, following up by its previous one named Dead trigger, It is one of the most played games in Android, so if you are looking game which is high in detailed graphics and love hardcore action then this will be the perfect match for you, you need to clear missions by killing zombies. The gameplay is fast and smooth
Game features
Travel across 10 regions in different parts of the world.
Explore 33 unique environments.
Grab your favorite Zombie annihilator from 37 kinds of weapons.
Go for the action in more than 600 gameplay scenarios.
#15 RoboCop
One of a favorite game is Robocop. This is the very addictive game and available for free on Google Play Store. In this game, there is a robot warrior which have to kill the enemies. This is actually a shooting game. The graphics quality of this game is very good. Must play this awesome game of android .
Game Features
Shoot your way through console-quality training simulations
Use drone strikes to take out large groups of enemies
Save human hostages and capture informants
Battle aggressive robot enemies from the film, like the EM-208 and the ED-209
Upgrade your weapons and robotic suit to the latest technology that OmniCorp has to offer
Scan your targets with body heat vision to find their location and weak points
Video: